Community Gem: Little Italy Farmers Market
Guest blog by Tina Pabon – volunteer, donor, and committee member
The Sisters of Sant Joseph Neighborhood Network (SSJNNN) has a close relationship with the people of Little Italy. From supporting community gardens to assisting with its neighbors' basic needs, SSJNN reflects this neighborhood's long-standing community spirit. The area grew from the many immigrants who fled poverty in Italy to the United States in the late 19th century and settled here. The community grew quickly; by 1911, Little Italy had more than 3,000 residents. Today, SSJNN collaborates with local farmers, volunteers, and donors to provide the community with fresh produce grown by local farmers, reminiscent of those early days in the neighborhood.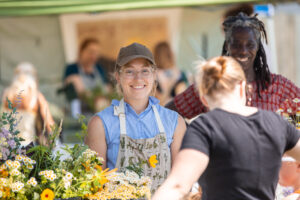 Fresh produce, flowers, and other locally made items are available at the Little Italy Farmer's Market at 331 W. 18th Street. The market is held every Monday, late June through September, from 3 to 6 p.m. This market offers a dollar-to-dollar match for SNAP benefits, WIC, and Senior FNMP (Farmers Market Nutrition Program) vouchers and is the only market in Erie County to do so. At the Little Italy Farmer's Market, farmers, new and old, urban and rural, come together to replenish a place that has become a food desert. Their hard work has created a space that gives residents access to fresh fruits and vegetables, promotes healthy eating, and helps stretch food budgets for individuals and families.
I was amazed during my first trip to the market. On a beautiful summer day, the usually empty lot on W. 18th St was a buzz. Like the bees that made the honey on sale, people were everywhere. With everything from handcrafted goods to local honey to fresh produce, the variety of homemade products and locally grown produce was matched only by the variety of people shopping for them. In a time when division is often the theme, seeing the gathering of people from both within the neighborhood and outside it all supporting local businesses and volunteering was inspiring.
From vegetables to soap, each vendor had something extraordinary to offer. From young farmers to farms with generations behind them, each provides fresh produce and other items to make this former food desert a food destination!
I had an opportunity to meet some of the volunteers working that day. Each of them had played a role in the success of Little Italy Farmer's Market. The market has grown consistently over the past few years. In 2020 nearly 4,000 shoppers attended, even amid the pandemic. I was also lucky to meet some of the farmers who made the market such a huge success. Goodhill Farm, Wild Field Urban Farm, and Post Apples Farm are just a few farmers participating at the farmer's market. Let's take a look into their stories and what brings them to Little Italy every week.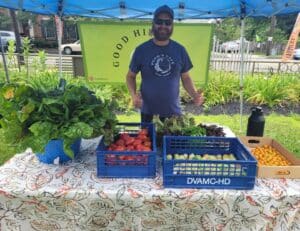 The pandemic sparked the farming spirit in Ryan Goodban of Goodhill Farm, a small and growing urban farm in downtown Erie. Ryan may be new to the job, but he has farmer in his DNA. At the turn of the 19th century, one of the biggest and most advanced dairy farms in Erie County was run by the maternal side of Ryan's family. It was located at Goodban Corners, now the intersection of Eureka and Stancliff Roads in Girard. To this day, Goodban Run still flows into Elk Creek behind what was Ryan's family farm. In addition to his mother's farming roots, his late father's family were dairy farmers in Chautauqua, NY.
Ryan lives with his girlfriend Kayla and her daughter Amelia on West 24th Street in Erie. When the pandemic started in early 2020, Ryan and Kayla faced a problem; like so many parents during that time, schools were closed. Someone needed to be home with their daughter. Together they decided Ryan would stay home and try something new. He started with three raised beds and a desire to grow good healthy food for their family and other families around Erie County during those uncertain times. Goodhill Farm was born!
Goodhill Farm went from those three raised beds to a greenhouse, a nursery, a 30×30 garden, and nine raised beds. They grow several types of lettuce, tomatoes, beets, radishes, kale, and peppers.  Year by year, their small farm grows as they add something new every year. They started small, but that doesn't stop them from making a big difference. They participate in SSJNN Farmers Market every week and sell their produce to local restaurants in the Erie area.
Wild Field Urban Farm is another farm beautifying the Erie community with its exceptional flowers and vegetables. Farmed and tended by Stephanie Ciner, this distinctive farm located on the city's lower East Side, where you usually do not see a farm, is genuinely revolutionary and wholly committed to doing what is best for the soil, plants, and people.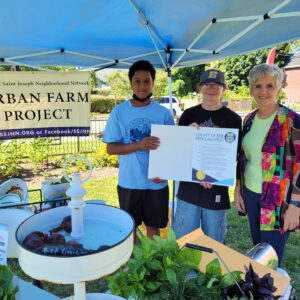 A combination market garden, a teaching garden, and an urban forest, their mission is to "nurture soil and grow plants for food and beauty, with nature and the community in mind." Not only do they sell fresh produce, but they sell seedlings in the spring, and fresh floral arrangements and wreaths in the winter. Wild Field uses sustainable farming techniques such as no-till, cover cropping, and composting. They never use herbicides, fungicides, pesticides, or insecticides to create pollinator-friendly gardens. And they have programs in place to share farmland with growers in need in their community. Wild Field is a fantastic example of how urban agriculture can make a difference in a city by providing both produce and opportunity to the community.
While our urban farmers are busy bringing life to our city, some farmers have fed our communities good quality fresh foods for decades. Post Apples Farm began with Charles Post in 1890. This farm has been family owned for five generations, from Charles to his son Archie, then passed on to his sons Howard and Rusty, and today Howard's sons Gordon and Rusty continue this great tradition with the addition of Gordon's children, Archie and Anastasia.
They have more than apples at Post Apples Farm. They grow over 100 different vegetables, and many Erie area schools still get apples from this local farm. Another way they show their support for the community is through their CSA (community-supported agriculture). The CSA offers three different membership types, runs from June to November, and has several pick-up locations in Erie and Jamestown, NY. Two of their memberships will get you produce, and the third is their way of supporting other regional, locally-owned businesses. Their partner, 19 Coffee in Pittsburgh, offers single-origin, espresso, and crafted blends of freshly roasted coffee to the patrons of Post Apples Farm CSA. The name has changed over the decades, but the Post family continues providing the community with great produce.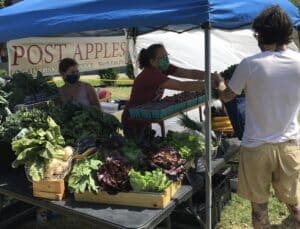 Many local farms, farmers, volunteers, and donors help to make the Little Italy Farmer's Market a success. It takes hours of labor to create a seamless experience for both vendor and patron at the market, and the whole team works hard to make the experience a good one. The last Monday of each month is always a special event date. At these events, you'll find additional non-food and educational vendors, music, and children's activities.
You can follow SSJNN on Facebook and Instagram to keep up with current happenings and what's yet to come, and I hope you do. As a nearly lifelong resident of Erie, I hope this tradition continues for the people of Erie and surrounding areas. It provides access to healthy food, offers a sense of community, gives local farm owners a place to sell their goods and share their knowledge, and brings a bright light back to this neighborhood that was once a beacon of hope for thousands of families.